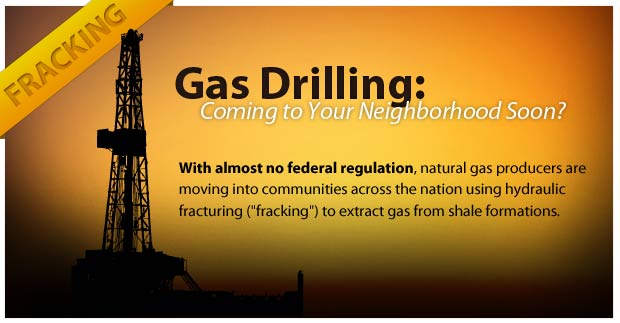 Hydraulic fracturing has been around for decades. But now, natural gas producers are deploying a new gas drilling method called high-volume horizontal hydraulic fracturing to release gas locked in untapped shale formations.
According to a report by the Department of Energy's outside advisory panel on natural gas, in 2011, shale gas reached 29 percent of total dry gas production in the lower 48 states, up from 6 percent in 2006.
Drilling is moving out of remote areas to within range of millions of people in cities and towns – and their water supplies.
Latest News
Related Reports
High-volume fracking combines two older techniques in a new and controversial way:
Drilling horizontally as well as vertically;
Injecting the earth with as much as 8 million gallons of water laced with sand and toxic chemicals, aiming to release gas trapped in bubbles within shale layers.
The U.S. Environmental Protection Agency estimates that by 2020, shale gas will comprise more than a fifth of total U.S. natural gas production.
Give gas a free pass?
Natural gas drilling enjoys many exemptions from the federal Clean Air, Clean Water and Safe Drinking Water acts, as well as hazardous waste laws. Lack of effective oversight is an increasingly critical problem for nearby communities because high-volume fracking:
Generates vast quantities of wastewater;
Requires noisy, polluting roads, trucks, fuel and construction materials.
Drillers target Eastern shale
Gas producers are moving aggressively to launch gas drilling operations throughout the eastern U.S., along a 350 million-year-old formation called the Marcellus Shale that extends from southern New York to Pennsylvania, western Maryland, West Virginia and eastern Ohio.
Drillers claim fracking does not pollute ground water and underground water supplies, called aquifers. But growing numbers of Americans, many in rural communities, report that wells and other water sources have become unusable since fracking operations started up nearby.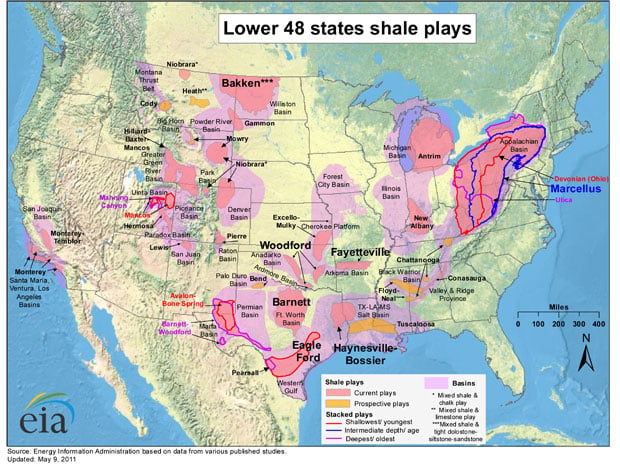 Threat to water detailed
Environmental Working Group has documented illegal practices, the use of toxic chemicals and water contamination that is apparently linked to fracking.
Unless high volume fracking and drilling is barred near drinking water sources and carefully regulated elsewhere, gas production will pose an expanding threat to homes, property values and water supplies.
It's critical that policymakers and environmental watchdogs close federal exemptions and intensify federal and state scrutiny to avert serious environmental damage as the pace of fracking accelerates.
Gas drilling poses health risks at every stage